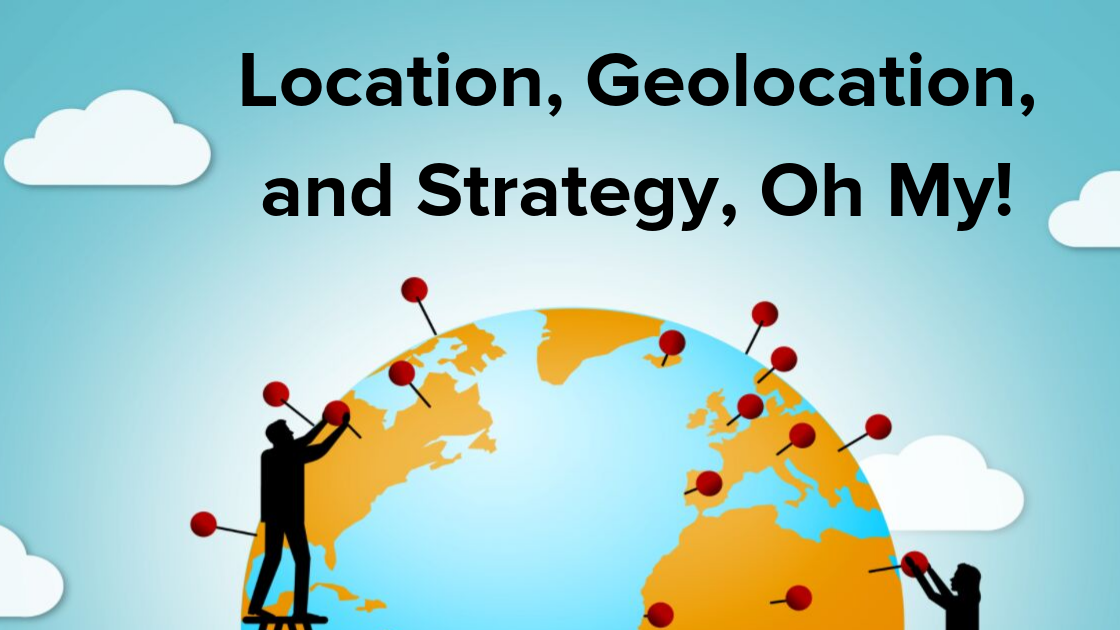 Location, Geolocation, and Strategy, Oh My!
The use of geolocation pages has become increasingly popular – it sounds exciting, it catches people's attention; but is it the right fit for the web strategy you're looking for? We start at the first question: what aspect of the page do you want to focus attention on? The client experience, the personalized user experience, the amount of information desired to show, or the use of SEO versus paid search/marketing?
When Should I use Location Pages?
Location pages are often generally more successful in terms of SEO, as you can individualize the key words more effectively than on a geolocation page - for example, to target certain cities and streets. You can still use keywords on the geolocation pages, however because the amount of information that you're getting on a geolocation page is limited, there's a possibility of having repeated information which is terrible for SEO. Geolocation pages have the ability to use keywords, however as the information on geolocation pages tend to be limited due to space constraints, it leaves room for repeated information (which is terrible for SEO).
Location pages focus on getting their information out into the world and increasing visibility; they're good for call CTAs since it gets information out with less pressure on the user to interact with the site itself. Form fills are often slow to fill out and slow to be responded to, and as a result, calling has become one of the best ways to obtain information as it's both convenient for the user to receive immediate answers, and for you to be able to provide them; location pages allow a low-stakes user to take it upon themselves to call in order to receive more information on the client/service. In its essence, those who use location pages acknowledge there's less intention with the information that's being presented.
One of the major reasons for the use of location pages over geolocation pages is that the options for personalization of the location page are more than what could be included in a geolocation page. Clients can have time-sensitive coupons, images, banners, maps, and more on the location page for a more personalized experience; bottom-line: more information will be presented on a Location Page. Interest in these pages will more than likely not be as high, so location pages play a long-term game as an accessible page of information to return to. Geolocation pages, in comparison, often only have a small amount of space to customize which can affect user retention and time spent on the page itself.
A client may choose to use a location page when a business wants to display specific information that are exclusive to that specific location, such as time-sensitive coupons, the hours of operation, or any days that might differ from other locations. These pages are entirely customizable and easy to change for new coupons/photos/information, and aims to contain the majority of the information you need to visit or contact the business.
What About Geolocation Pages?
Geolocation pages are more powerful in conjunction with paid marketing, as the SEO generally is not as effective as it would be with a location page - paid marketing drives traffic directly to these pages.
Geolocation pages offer benefits for both the client and the user side – for the client, geolocation pages reduce the management burden since there are only one or a few pages per campaign, while if location pages are used there are hundreds or thousands of pages to manage. Reducing the number of pages means bugs can be found and fixed more quickly, and updates are all implemented in one place. As for the user, it's convenient for their experience to interact with your page and be geolocated to the nearest data point to what they're looking for (for example, if they're looking for a restaurant or store in a new city) - you can have any data that has location associated with it (a store, a person, etc.), and once a user interacts with the page, they have the closest location points to them right at their fingertips.
Geolocation pages also prompt the user to interact more (as location pages are notorious for not having much interaction with a CTA) thus increasing conversions and interest in the page. Geolocation will do better with goal CTA's because of this interaction aspect – when paid marketing is used, the traffic that comes in is made up of higher quality users who are actively looking for something, so they will be more willing to give out their info and fill out forms in order to get more information.
A client might use geolocation pages in order to present the top few results of people/locations of a business in the surrounding area that the user is in - for example, if they're looking for a lawyer from a specific law firm, the geolocation page would display the top four (or however many the client would like) closest offices that are from that same law firm in the area. Often this page would include a minimum amount of important information, such as their physical address and phone number.
To decide which type of page would yield the most benefit, it's important to take a closer look at the goals that you hope to achieve with your location page: the client experience, personalized user experience,amount of information desired to show the user, or the use of SEO or paid search/ marketing. Although geolocation is the "shiny new thing", it may not be the right fit for your goals, assess and choose carefully!