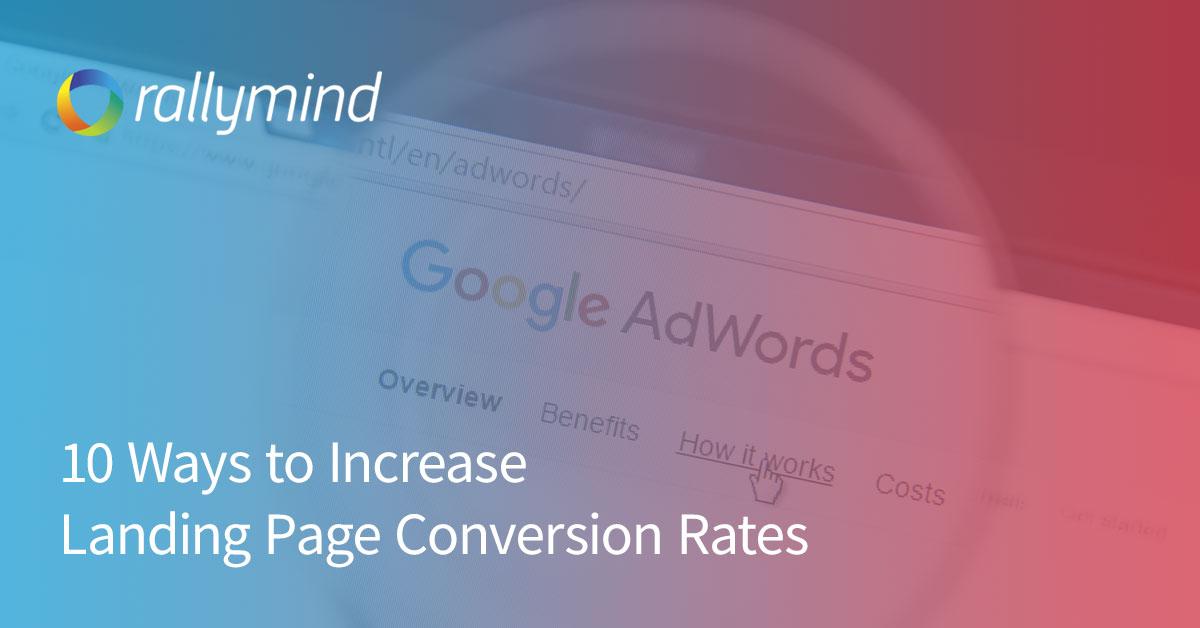 When used properly, a landing page can be a great way to generate attention from prospective customers, but there's a strong difference between a good landing page and a bad landing page. If you're not seeing high traffic numbers — or, worse, your visitors are quickly clicking away — your landing page may be the problem. These 10 tips can help you improve conversion rates and boost the results you see from your site.
1. Emphasize the Top
What's the first thing a visitor will see upon visiting your landing page? That's right — the content above the fold, so to speak. Rather than burying important information halfway down the page, keep your relevant details, like your offer and your call to action, near the top.
2. Minimize Navigation
The objective of a landing page is to inspire action in potential customers, so the last thing you want is to give them an easy way to leave before converting. On your landing page, do everything possible to limit navigation so potential leads only have one option.
3. Improve Speeds
The speed at which your page loads can be incredibly important. Half of web users expect sites to load in two seconds or less, and most will move on if a page is still loading after three seconds. To increase your odds and keep visitors from fleeing, improve page speeds as much as possible.
4. Optimize Your Site for Mobile
The importance of mobile to Google can't be understated; as one of the primary components in mobile ranking, mobile-friendly sites are a must-have. Make sure you employ responsive or mobile-specific design to avoid a poor showing in the SERPs.
5. Utilize Google AMP
The speed at which mobile websites load matters too. If you want to avoid being penalized by Google, consider utilizing Google AMP (Accelerated Mobile Pages) or other similar tools to keep your mobile pages up to par.
6. Make CTAs Obvious
A landing page is all about action. With so little time to communicate a message — the average visitor spends 15 seconds on your website — it's important that you state clearly and obviously what a customer will gain with you.
7. Emphasize Design
A strong landing page is one that blends fashion and function, drawing in users with a combination of impactful content and valuable offers. Instead of focusing solely on the back end, put time into creating a compelling design as well to keep visitors engaged.
8. Break Outside the Box
No matter what you're offering, you need to make sure it's appealing and unique. If a customer can get your benefits from your competition, there's no incentive to sign up with you. Make sure your available opportunities add value and stand out from the crowd.
9. Improve Content
The more compelling your content is, the more likely you are to send a message. Instead of sticking with a few basic, boring lines of text, amp up your landing page with content that is proven to attract interest, like explainer videos, product images, lists, or statistics.
10. Keep Moving Forward
A landing page that works today won't necessarily work tomorrow. In order to improve your odds of ongoing success, continue to review metrics and analytics, do due diligence on updates to Google's algorithms, and refine and tweak your page as necessary.
With 80% of traffic going to the top 10% of landing pages, it's in your best interest to surpass the competition. These 10 tips can ensure you're perfectly positioned to succeed.
Let us show you how to leverage RallyMind to create 10s, 100s, or 1000s of high converting landing pages for your campaigns.