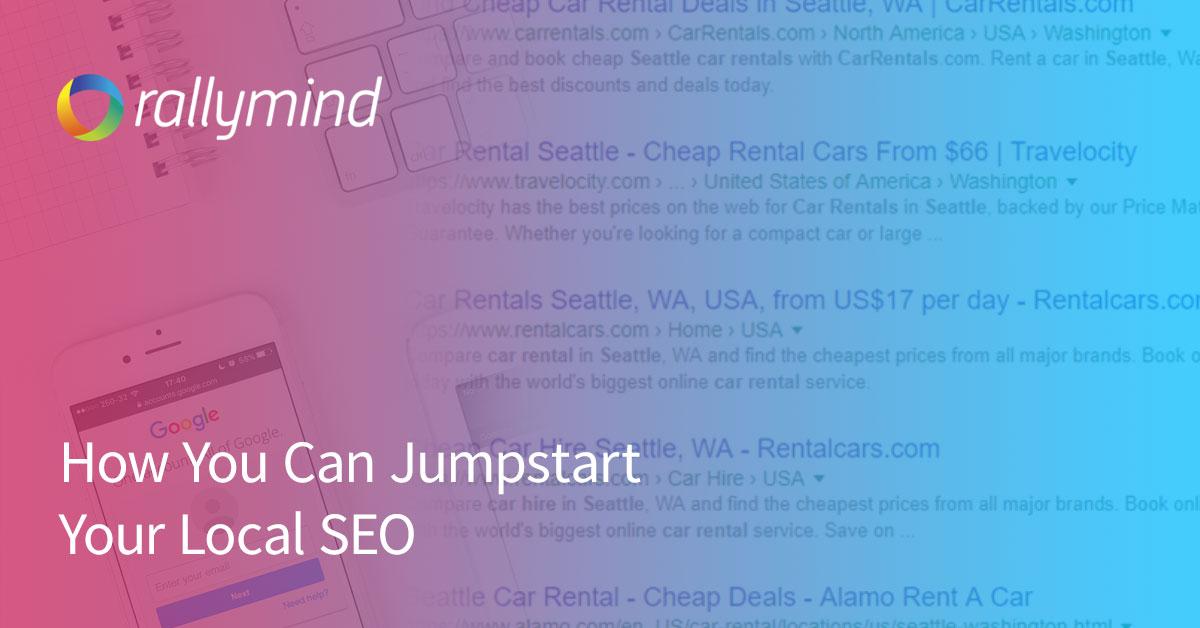 Local SEO is a concept that most businesses know well. Optimizing web pages for local searches is one of the best ways to make your business visible to people searching for solutions in their area. It's also a fairly broad concept and can include activities such as:
Creating and managing Google My Business (GMB) listings
Local citation building
Local link building
Business directory (Yelp, Foursquare, etc) optimization
Location-specific social media
Local landing page creation and on-site optimization
Most local SEO does tend to focus on managing GMB listings, since a large amount of traffic in Google results goes to the "local pack" – the map and suggested business profiles that are shown at the top of local searches in Google results.
A huge amount of traffic also bypasses the local pack and relies on the traditional search results beneath it. The results vary by industry and search intent, but for many businesses, ranking in the traditional SERPs is critical.
Why Do Businesses Create Local Landing Pages?
When you search Google for a term that includes a geographic area, such as "car rentals in Seattle," you first see a local pack like this: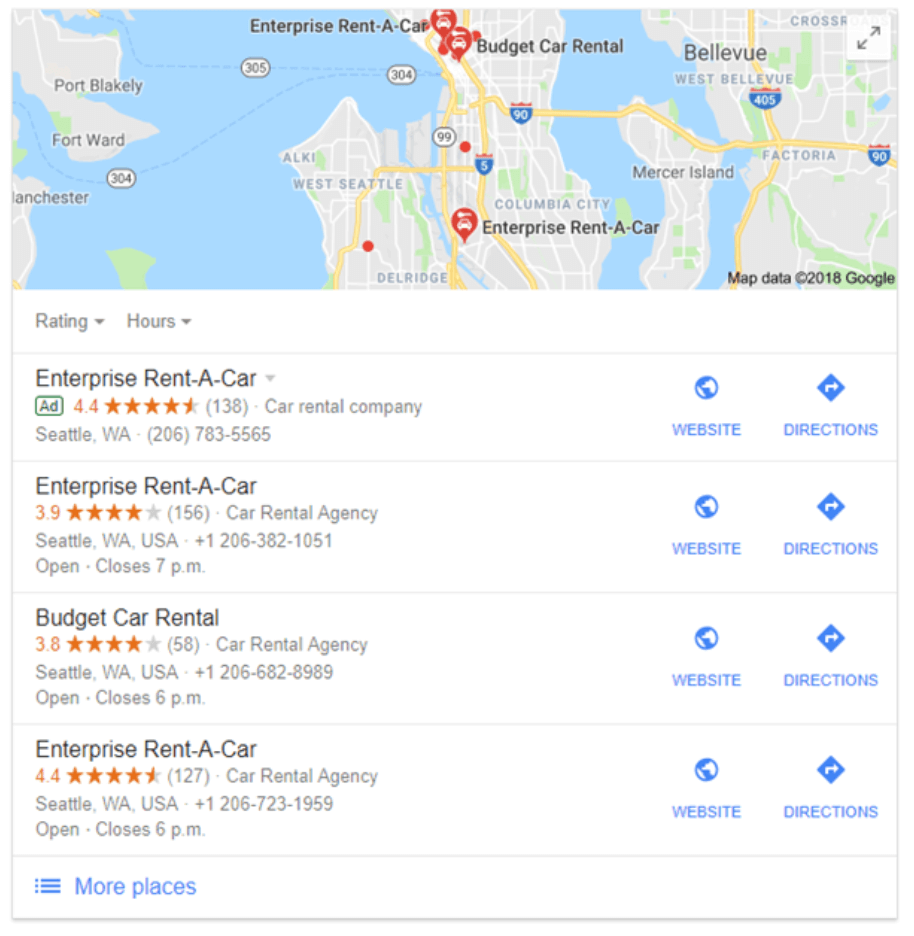 Followed by search results like this: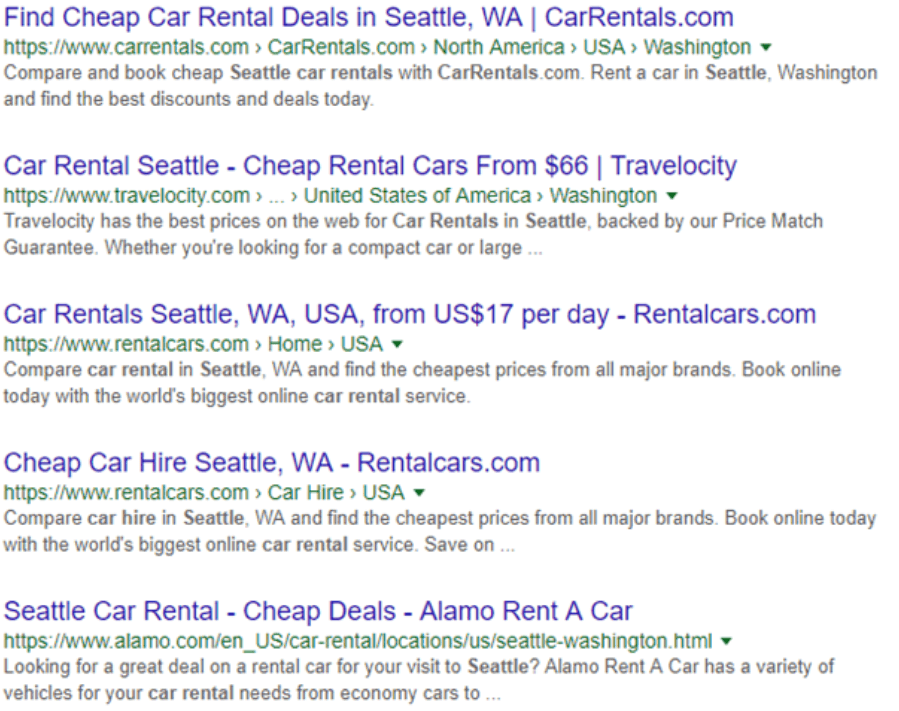 These local landing pages are typically designed to rank well for these local search terms by presenting valuable location-specific information.
Both types of search results are extremely valuable to businesses, and most companies will make efforts to rank in both spots.
Many companies would make the same decision – ranking in both spots brings more traffic and exposure which is always good, right? That's a very sound strategy if it's available to you.
There are some specific scenarios where companies should focus more on local landing page creation, though.
They Can't Create a GMB Page
Google won't let businesses create a GMB listing for geographic locations where the company doesn't have a physical presence. And no - your cousin's house or that cheap post office box doesn't count.
Without that GMB listing, you won't get placed in that local pack.
There are countless service businesses that don't have a physical location in every area they service, but they still want to be visible to prospective customers in those geographic locations.
Think of the car rental example presented earlier. Travelocity ranks on the first page for "car rentals in Seattle." The company doesn't have any physical locations in the city, so it couldn't make it into the local pack. In this case, getting ranked in the traditional search results is very important.
In situations like this, the best way you can capture organic local traffic for every market your company serves is through local landers.
The Local Pack Isn't a Priority for The Business
The share of traffic that goes to the local pack varies significantly by industry.
Businesses such as restaurants where the customer's purchase decision is made quickly might see most search traffic click on the local pack.
On the other hand, people searching for a new dentist may prefer to click on the top-ranked dentists' websites to do more research.
If the local pack isn't a high priority for your business, you'd be wise to focus on creating exceptional local landing pages to rank at the top of the traditional search results.
Local Landing Pages Are Necessary For User Experience
To ensure an excellent user experience, consumers should be able to easily find the information they need. If your company serves users in different areas, you must display information specific to that area. Local landing pages are an excellent way to do this.
Many users will expect to find information about how a business serves their area right in the site's navigation.
Going back to the car rental example, check out this Locations page on Avis' site: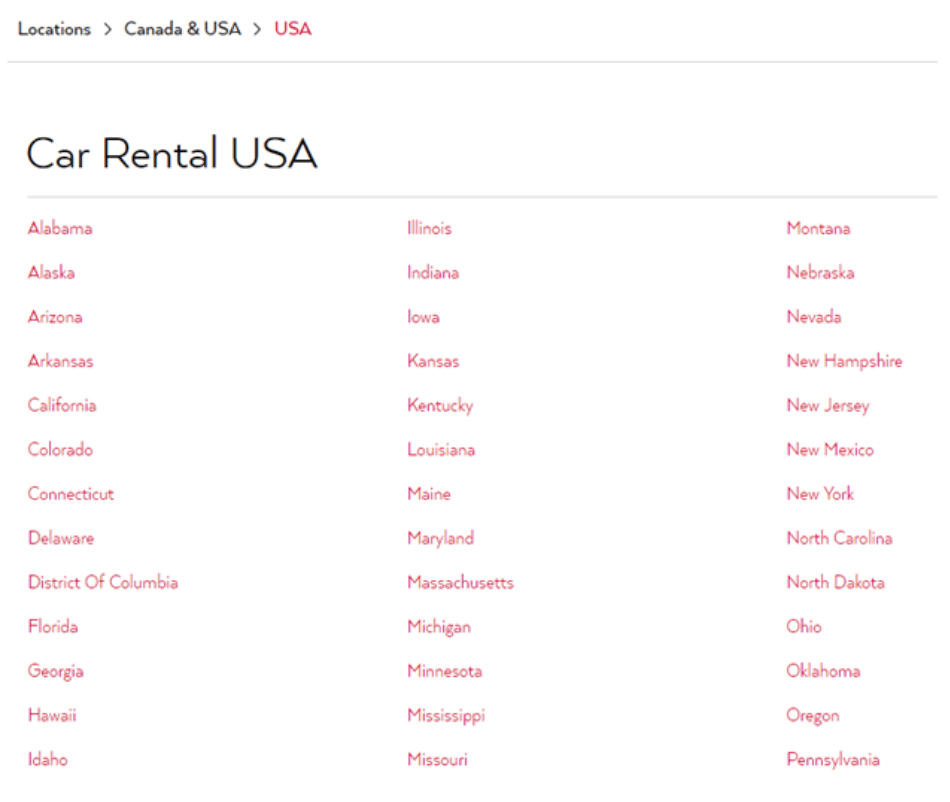 Avis knows its users are looking to get information about Avis' services in a specific area, so it gives them an easy-to-use page to find it. Once a user clicks on the right state or city, they wind up on a local landing page.
The Challenge
So, you've decided that local landing pages could benefit your business. You'll need to decide which service areas you want to create pages for, develop content and publish each page.
Needless to say, when your service areas number in the tens, hundreds or thousands, this can be a daunting proposition.
So What's the Solution?
RallyMind has made the business of creating and managing scalable landing pages in large quantities as simple as possible without limiting users to bland, generic pages. Its innovative software lets marketers create templates into which location-specific information is automatically inputted to produce high volumes of well-designed, attractive landing pages with minimal work required.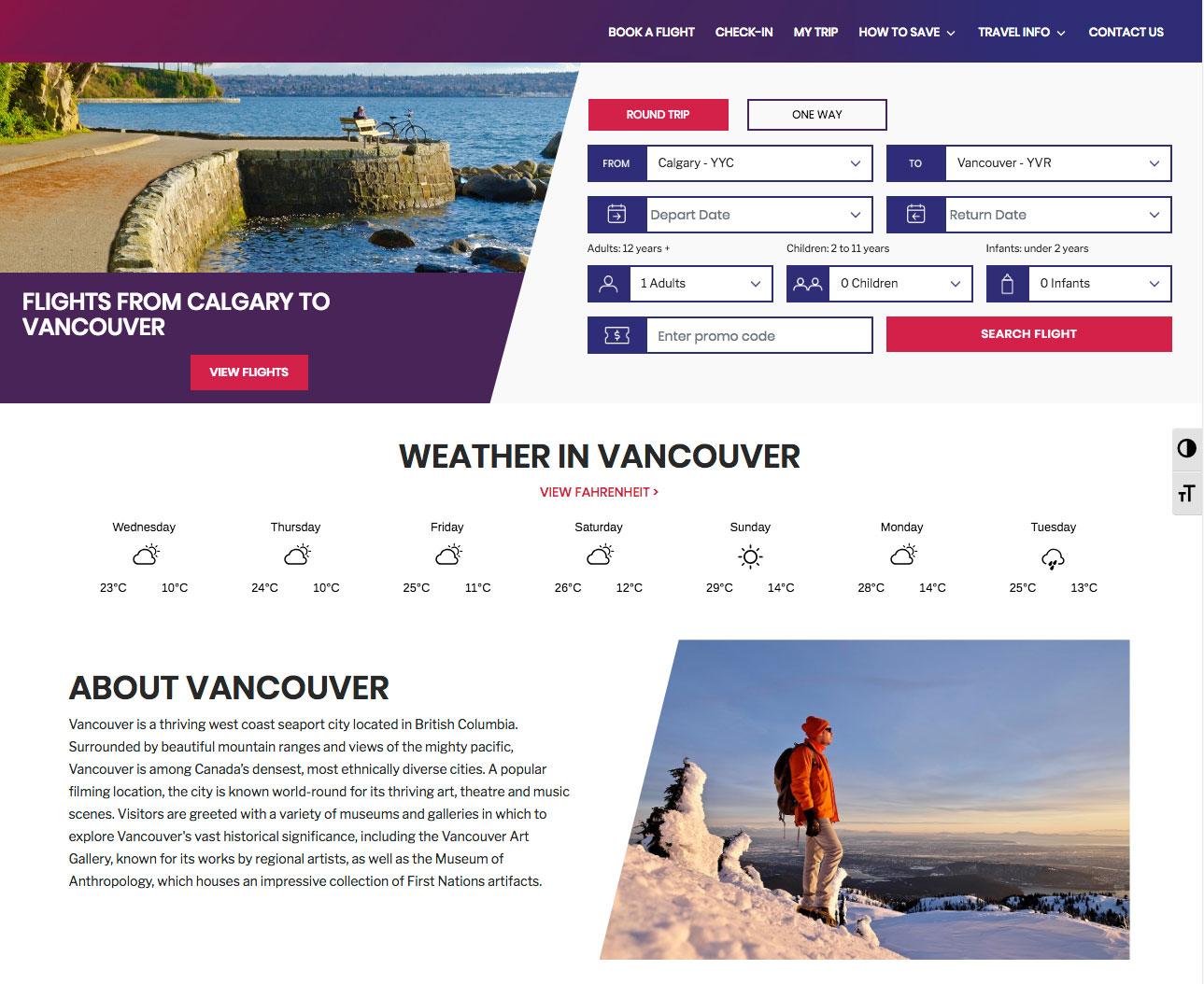 RallyMind makes the process of creating local landing pages as simple as possible using the following process:
Step 1: Create a Master Template
The master template you create encompasses everything that won't be changed between different landing pages. This can include the name of your company, branding/logos and, if there's only one location, the address as well. Color templates, global photos and a general map of the page layout should be included in the template before you finalize it as a blank slate for all of your local landing pages.
On your master template, you can add some copy that won't change for the different cities' landing pages, but keep in mind that if Google senses too much duplicate copy on two or more pages, it becomes a tricky issue where SEO is concerned.
Step 2: Create Campaign Copy
This will be the city-specific content you use for each separate local landing page. Remember, while you don't need to go overboard on the word count, Google prefers that landing pages have some substance and satisfy searchers' intent, so you'll need unique copy on each page.
According to Crowd Content, dynamic elements that differ with each separate landing page may include:
Unique, relevant content with customized regional information, including sites of interest, colloquial language, city or town nicknames, neighborhood information and any other community-specific selling points
Strong use of location-based keywords
Unique and location-specific metadata
Internal links to other relevant areas of your site
External links to trusted sources with the info your visitors would find useful
Business reviews
Staff quotes
Local images and videos
Service area maps
Local images
Varying colors
As a general rule, the minimum content each landing page should include is some city-specific copy that utilizes the location, locally focused keywords, a locally relevant CTA and hours of operation, as well as pricing and contact info.
Also be wary of some other landing page best practices not specific to local landing pages such as message matching. When you create a local landing page for a specific search phrase, you should make it as relevant as possible by trying to solve the intent behind a person's search for those keywords.
Step 3: Use this Data to Auto-Publish
Step 3 is where you'll see with your own eyes the time-saving impact of using RallyMind's software to build your local landing pages. You'll create a spreadsheet using Google Sheets that includes the following data:
City name
Local agent or contact, if applicable
URL for the Landing Page - This is very customizable to fit any strategy
Contact number
Any other custom fields you've decided to create
These data field are listed in the column headers, and each location's content goes in one row.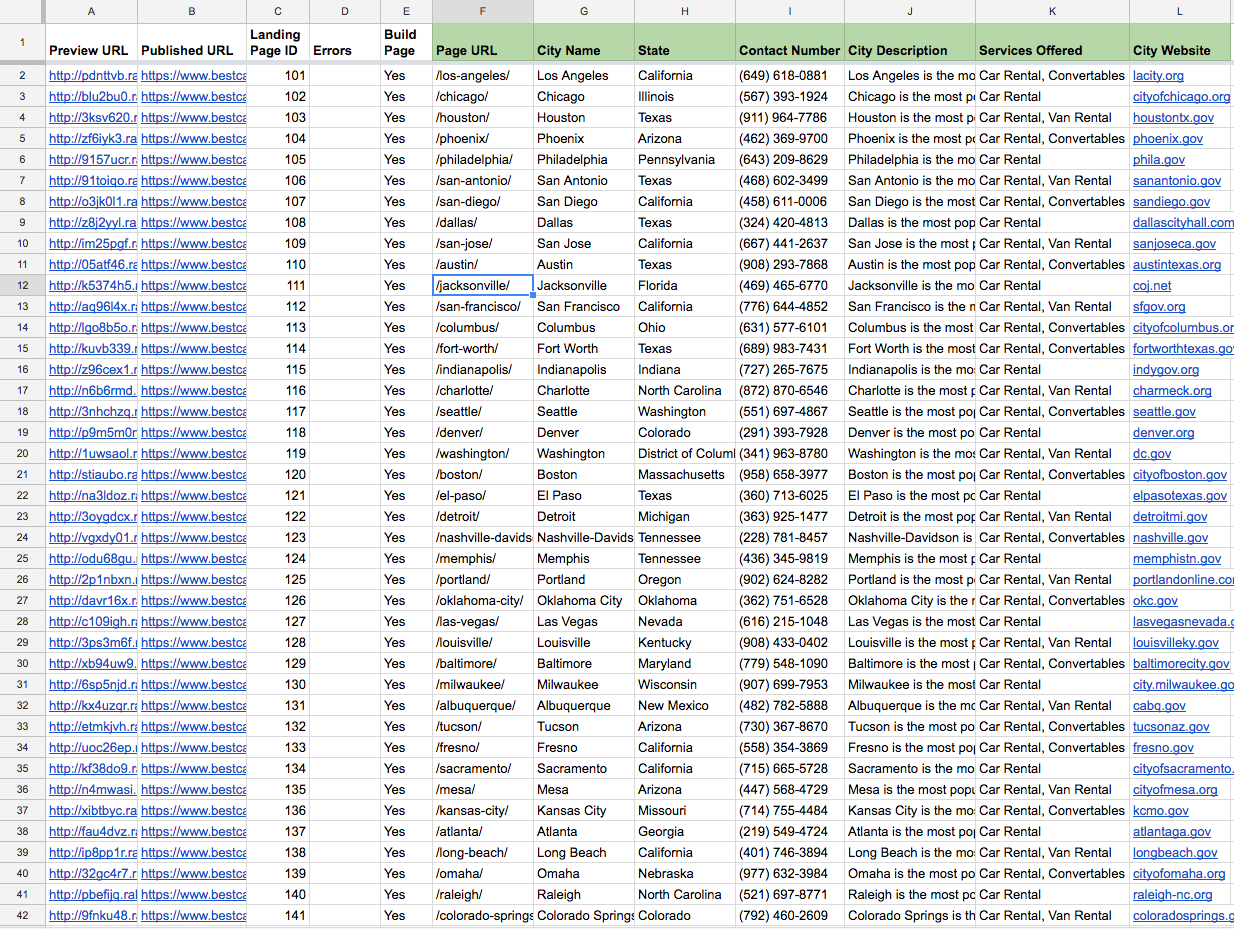 Once your sheet is finished, just sync it to RallyMind and your pages will begin generating by inserting your content into your master template.
Custom Fields
Custom fields are a big part of what makes RallyMind so helpful in creating high-quality local landing pages at scale.
As you create your master template, identify each section of content that you'll include and where. This often includes things like:
Branch history
Neighborhood info
Staff bios
Description of services
When you create the content for each section, you'll map it to a custom field in your template. This custom field is included as a column in your Google Sheet, letting you pop each city's custom section content into a row that's used to generate the page.
Step 4: Manage, Add and Track Your Landing Pages
Once you follow steps 1 through 3, you'll be able to harvest the fruits of your (reduced) labor. Need to add a new service area? Simply create the copy and add it to the Google sheet.
RallyMind also provides some useful integrations with their software. For example, Google Tag Manager, Optimizely and built-in analytics tracking lets you see which pages are underperforming so you can identify areas you can improve.
You can also categorize the leads your business receives from different landing pages. If certain reps handle different markets, for example, you can send leads directly to the right employee's CRM.
These are just a few examples of integrations available. Be sure to check out the Integrations page for more info or contact RallyMind to learn more.
The Bottom Line
Manually creating landing pages en masse takes hours of work and can create issues with consistency or standardization between the pages you create. While there are many tools that help marketers create a few landing pages, RallyMind is the only one that focuses on giving you the ability to scale your pages into high quantities with minimal extra effort.